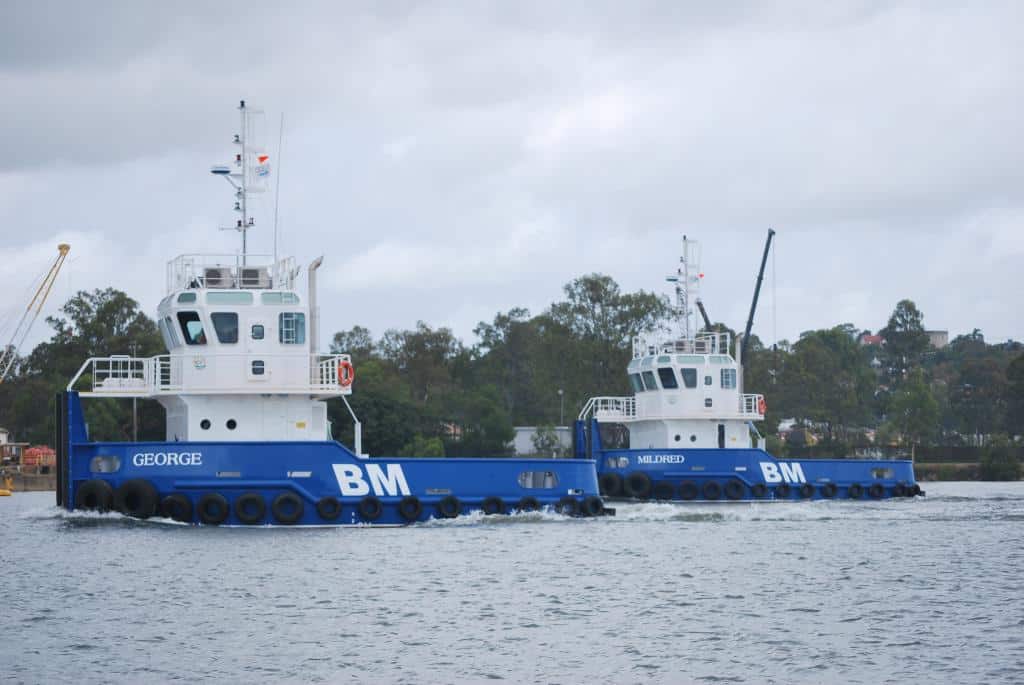 Primary Information
Secondary Name: Pusher Tug
Vessel Type: Tug
Classification: DCV – 2B
MMSI: 503488200
Builder: Yan Naing Soe
Build Location: Malaysia
Year Built: 2010
Flag: Australian
Trading Area: within 200nm
Call Sign: VNW6388
M & H Number: 6769
No. Passengers/Special Personnel: 6
No. Crew: 4
Dimensions
Length Overall: 15 Metres
Beam: 8 Metres
Depth Moulded: 3 Metres
Design Draft: 2.3 Metres
GRT: 88 Tonnes
Dead Weight: 40 Tonnes
Machinery
Propulsion: Twin Screw
Main Engines: 2x Cummins KTA19M
Total Power: 2X 480Kw KW
Gear Box: Twin Disc 5170 Ratio 5.75 – 1
Generator: 2x Kohler 26 kVa
Speed and Consumption Performances
Full Operating Speed: 10Kts @ 190Lts/Hr
Economic Operating: 8Kts @ 140Lts/Hr
In Port: 300 Lts/Day
Bollard Pull: 15 Tonnes
Capacities
Fuel: 35,000 Litres
Water: 12,900 Litres
Sullage: 2,600 Litres
Lube Oil: 130 Litres
Clear Deck: 16 Metres Sq.
Nautical and Communication Equipment
Radar System: 1x Furuno RDP149
Depth Sounder: 1x Furuno FCV620
GPS: 1x Furuno GP32
Compass: 1x Saura Keiki Seis Akuho T-150 MkIIF
Chart Plotter: 1x Furuno Navnet VX2
AIS: 1x Furuno FAI
HF Radio: 1x JRC JSB-196
VHF Radio: 1x ICOM IC M505 with DSC & 1x ICOM IC M411 with DSC
Searchlight(s): Hella 1800 watt
Other: Auto Pilot: Coursemaster 880
Miscellaneous Equipment
Description: Medivac Stretcher, Marpol Compliant, Sewage Treatment Plant (1800L Sullage Tank)
The data on this specification is published in good faith and for general information purpose only.
It does not warrant its accuracy or completeness and to the full extent allowed by law excludes liability.
Charter enquiries can be directed to our Commercial Department
Phone: +61 8 9965 9700 Fax: +61 8 9965 4545 Email: commercial@bhagwanmarine.com
Specification ID: 0 Revision: 0