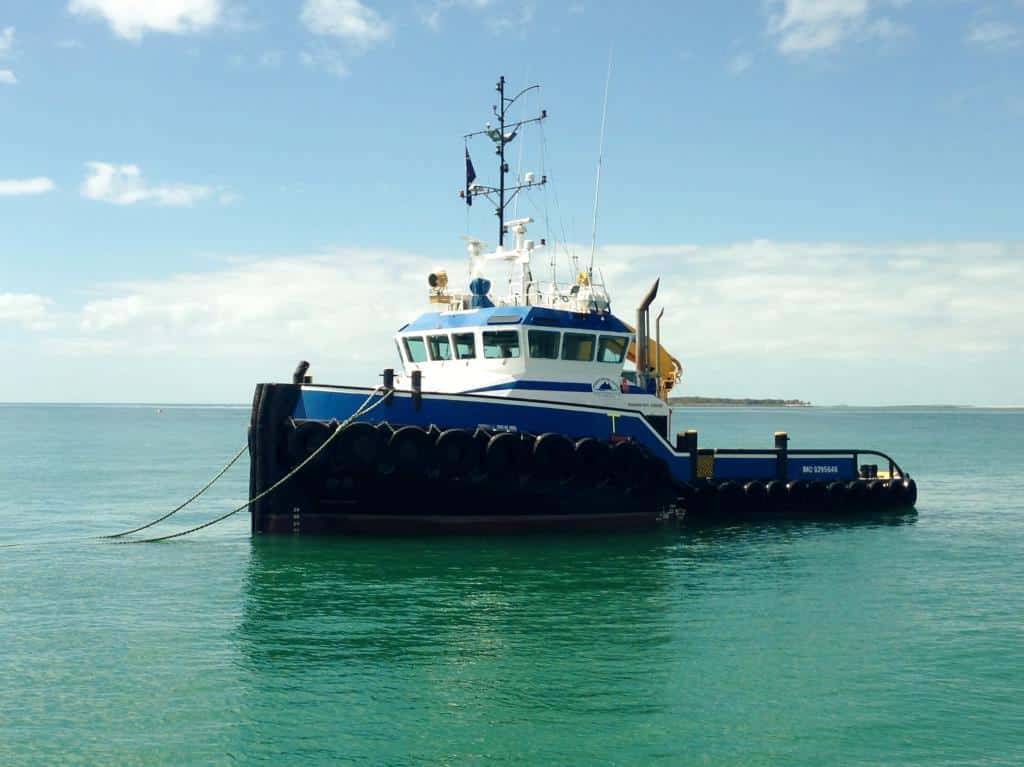 Primary Information
Secondary Name: Shoalbuster 2609
Vessel Type: Tug
Classification:
Bureau Veritas 1 3/3E TUG
IMO: 9295646
MMSI: 503725900
Builder: Damen,
Build Location: Netherlands,
Year Built: 2004
Flag: Australian
Trading Area: Unrestricted Navigation
Call Sign: VJN4167
Schematics (GA): 
Dimensions
Length Overall: 26.2 Metres
Beam: 9.1 Metres
Depth Moulded: 3.6 Metres
Design Draft: 2.6 Metres
GRT: 212 Tonnes
Dead Weight: 61 Tonnes
Machinery
Propulsion: Twin Screw
Main Engines: 2x Caterpillar 3508 B-TA
Total Power: 2x 820kw KW
Gear Box: 2x Reintjes WAF 562 5,421:1
Generator: 2x John Deere 4045 TF258
Bowthruster: Promac 120Bhp, Hydraulic
Speed and Consumption Performances
Full Operating Speed: 11.7kts @ 300L/Hr
Economic Operating: 8.5kts @ 240L/Hr
In Port: 150
Bollard Pull: 28.5t Tonnes
Capacities
Fuel: 115,000 Litres
Water: 30,000 Litres
Sullage: 2,500 Litres
Lube Oil: 2,700 Litres
Dirty Oil: 3,800 Litres
Bilge Water: 3,800 Litres
Deck Load Rating: 5 Tonne/Sq. Metre
Max Deck Cargo: 37 Tonnes
Cargo Discharge Pumps
Fuel Cargo: SIHI 32M³/HR
Freshwater: SIHI 32M³/HR
Deck Equipment
Anchor Handling Winch: 47 Tonnes
Accommodation
Berths: 7
Features: Heated And Air-Conditioned Galley/Mess And Sanitary Facilities
Nautical and Communication Equipment
Radar System: Furuno FR 8051 Arpa
Depth Sounder: Furuno FR 8062
GPS: Furuno GP-80
Compass: Anschutz Observator Mk with Repeater
Chart Plotter: TMQ Cpolt
AIS: Simrad – Thuraya DSL
HF Radio: Sailor HC4500
VHF Radio: 3x Sailor
UHF_Radio: Hand Held
GMDSS: A4 Equipped
Searchlight(s): Sailor DT4646E
Other: Seematz
The data on this specification is published in good faith and for general information purpose only.
It does not warrant its accuracy or completeness and to the full extent allowed by law excludes liability.
Charter enquiries can be directed to our Commercial Department
Phone: +61 8 9965 9700 Fax: +61 8 9965 4545 Email: commercial@bhagwanmarine.com
Specification ID: 0 Revision: 0