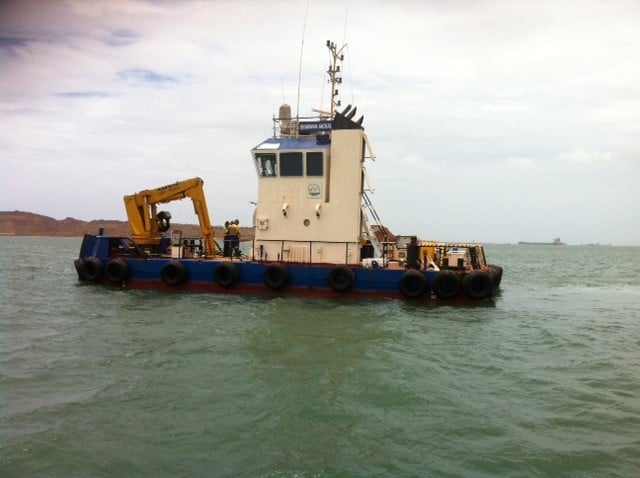 Primary Information
Downloadable / Printable Spec SheetSecondary Name: Damen 1908
Vessel Type: Multi Cat
Classification:
DCV – USL 2C
MMSI: 503687300
Builder: Damen
Build Location: Netherlands
Year Built: 2010
Flag: Australian
Trading Area: Operational Areas including Offshore to 50 nm
Call Sign: VJN3947
M & H Number: 6992
No. Passengers/Special Personnel: 2
No. Crew: 4
Dimensions
Length Overall: 18.7 Metres
Beam: 8.1 Metres
Depth Moulded: 2.8 Metres
Design Draft: 1.7 Metres
Dead Weight: 66 Tonnes
Machinery
Propulsion: Twin Screw
Main Engines: 2x Caterpillar C-18 ACERT/A
Total Power: 714 KW
Gear Box: 2x Reintjes WAF 164L 4.56:1
Generator: Caterpillar C4.4 NA, 47 KVA,
Speed and Consumption Performances
Full Operating Speed: 9 Knots
Economic Operating: 7 Knots
In Port: 100 Lts/Day
Bollard Pull: 12.3 Tonnes
Capacities
Fuel: 54,200 Litres
Water: 15,900 Litres
Sullage: 900 Litres
Water Ballast: 23,000 Litres
Lube Oil: 800 Litres
Dirty Oil: 900 Litres
Bilge Water: 800 Litres
Deck Load Rating: 5 Tonne/Sq. Metre
Deck Equipment
Tow Winch: 15 Tonnes
Anchor Handling Winch: 15 Tonnes
Tow Hook: 15 Tonnes
Shark Jaw: 15 Tonnes
Crane: 5 Tonnes
Accommodation
Features: Air Conditioned Wheelhouse, Dayroom/Pantry for 4 Persons and Sanitary Space – Toilet and Washbowl. Workshop and Store is fitted below Main Deck
Nautical and Communication Equipment
Radar System: Furuno FR-8062
Depth Sounder: Furuno LS-6100
GPS: Garmin MAP 521
Compass: Magnetic Kotter
Chart Plotter: Furuno Navnet vx2
HF Radio: JRC JSB-196
VHF Radio: 1 x Icom IC-M505 & 1 x Sailor RT2048
Searchlight(s): Pesch 500 W
The data on this specification is published in good faith and for general information purpose only.
It does not warrant its accuracy or completeness and to the full extent allowed by law excludes liability.
Charter enquiries can be directed to our Commercial Department
Phone: +61 8 9965 9700 Fax: +61 8 9965 4545 Email: commercial@bhagwanmarine.com
Specification ID: 0 Revision: 0