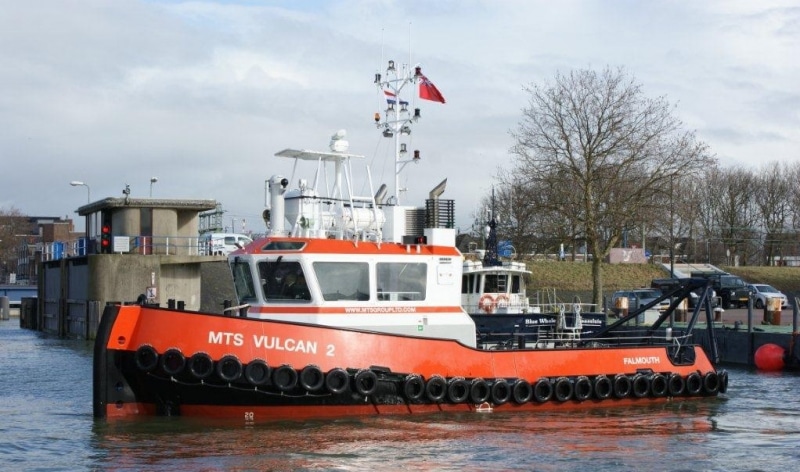 General
Type of Vessel : Tug / Workboat
Builders : Damen Netherlands
Building Year : 2011
Basic Functions : Towing, barge handling, crew transfer, dredging support, seabed ploughing
Classification : MCA Cat 2 – 60 miles from safe haven
Propulsion System
Main Engines : 2x CAT C18 TA/B
Total Power : 1200 hp
Gearboxes : 1x Reintjes 4.5:1
Propulsion : 2x Kaplan 3 blade
Diameter : 2x 1350 mm in Kort nozzles
Equipment
Flybridge : High command position for pushing
A Frame : More details on request
6m Plough : More details on request
Performances
Bollard Pull : 17 tons max
Speed (Max.) : 11.2 knots
Dimensions
Length o.a. : 16.6 m
Beam o.a. : 6 m
Draught aft : 2.3 m
Tank Capacities
Fuel Oil : 14.2 m3
Fresh Water : 1.1 m3
Deck Layout
Anchor : 2x 80 kg Pool HHP
Deck Crane : Helia HLM 3.25
Anchor Winch : Elec powered
Towing Winch : Single drum hydraulic with 250 m wire
Coupling Winches : 2x 25 t manual coupling winches for pushing
Features
Accomodation : Heated and air conditioned living spaces for up to 4 persons, shower, WC & galley.
Auxiliary Equipment
Generator Sets : CAT C2.2
Capacity : 18 kva
The data on this specification is published in good faith and for general information purpose only.
It does not warrant its accuracy or completeness and to the full extent allowed by law excludes liability.
Charter enquiries can be directed to our Commercial Department
Phone: +61 8 9965 9700 Fax: +61 8 9965 4545 Email: commercial@bhagwanmarine.com
Specification ID: 0 Revision: 0