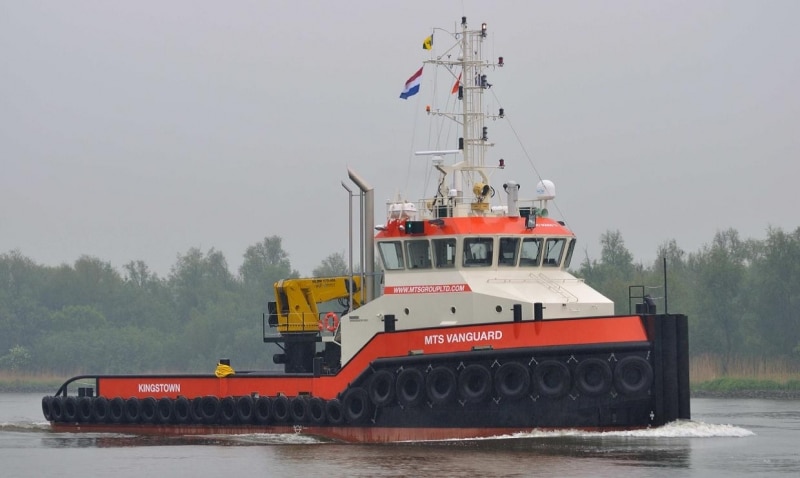 General
Type of Vessel : Damen Shoalbuster 3209
Builder : Damen Shipyards Hardinxveld
Building Year : 2014
Basic Functions : Towing, Anchor handling, Dredging support, Pushing
Classification : Bureau Veritas I Mach Tug Unrestricted
IMO Number : 9688673
Gross Tonnage : 327
Call sign : J8B5082
Flag / Registry : St. Vincent / Kingstown
Propulsion System
Main Engines : 2 x CAT Type 3512C TB/HD
Total Power : 3500 hp (2610 kW) @ 1600 rpm
Gearboxes : 2 x Reintjes WAF 773/6.44:1
Propulsion : 2 x Promarin fixed pitch propellers
Diameter : 2 x 2250mm in Optima nozzles
Bow Thruster : 350 hp (257kW) hydraulically driven
Auxiliary Equipment
Generator Sets : 2 x Caterpillar C4.4 TA
Capacity : 2 x 107.5 kVA, 50Hz
Hydraulic : 1 x Caterpilar C18 TA-B
Capacity : 357 kW @ 1800 rpm
Transfer Pump : VWSI 8020, 50 m3/hr @ 4.8 bar Water
VWSI 8020, 50m3/hr @ 4.8 bar Fuel
Performances
Bollard Pull : 50.5 t max
Speed (Max.) : 11.5 knots
Dimensions
Length o.a. : 32.27 m
Beam o.a. : 9.35 m
Depth at sides : 3.60 m
Draft aft : 3.30 m
Tank Capacities
Fuel Oil : 220.00 m3
Fresh Water : 40.80 m3
Lube Oil : 7.30 m3
Hydraulic Oil : 3.10 m3
Deck Layout
Anchor : 2 x 360 kg Pool (HHP)
Deck Crane : Helia HLRM 170-4SL. 7.9 ton @ 15.93m
Crane Winch : 5 ton, Wire 50m x 18mm
Anchor Winch : DMT, WATW-H1000KN
Towing Winch : 150t brake holding
Towing Wire : 1st drum 850m x 44mm
2nd drum 750m x 44mm
Tugger Winch : Dromec HPV-12000, 12 ton
Towing Pins : WK – Hydraulics SWL 50 tons
Chain Stopper : WK – Hydraulics SWL 75 tons
Features
Accommodation : Heated and fully air-conditioned living spaces
for 7 persons, consisting of three single and
two double crew cabin, a galley/mess & sanitary
facilities.
The data on this specification is published in good faith and for general information purpose only.
It does not warrant its accuracy or completeness and to the full extent allowed by law excludes liability.
Charter enquiries can be directed to our Commercial Department
Phone: +61 8 9965 9700 Fax: +61 8 9965 4545 Email: commercial@bhagwanmarine.com
Specification ID: 0 Revision: 0