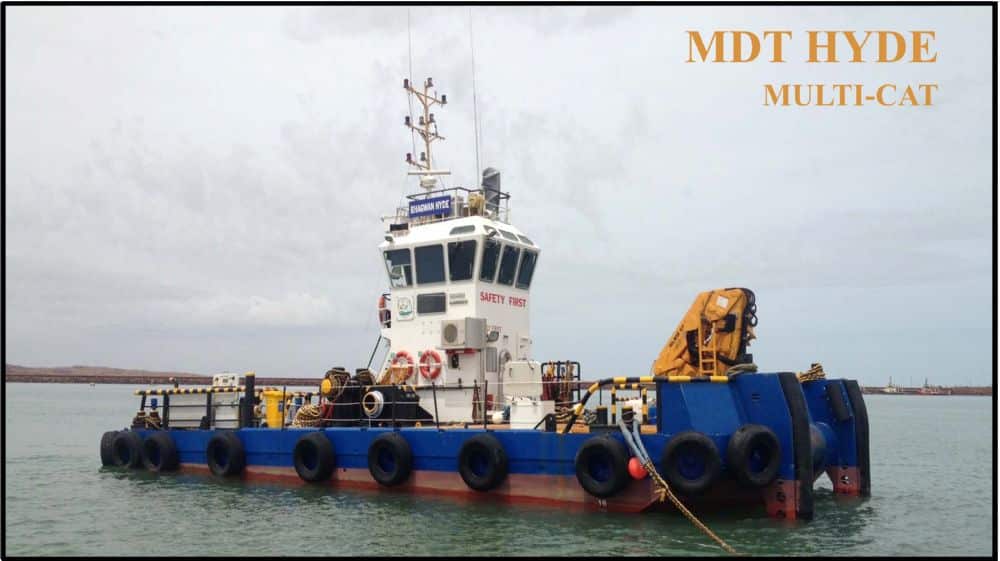 General
BUILD DATE : Apr-11
BASIC FUNCTIONS : MULTI-PURPOSE WORK BARGE
CLASSIFICATION : DPI 2B
Performances
BOLLARD PULL AHEAD : 12.3 TON
SPEED : 9.0 KNOTS
Main Dimensions
LENGTH O.A. : 18.91 M
BEAM O.A. : 8.06 M
DEPTH AT SIDES : 2.75 M
DRAUGHT AFT : 2.10 M
DISPLACEMENT : 210 TON
Tank Capacities (Approx)
FUEL OIL : 54.2 M3
FRESH WATER : 15.9 M3
WATERBALLAST : 23.0 M3
LUBRICATION OIL : 0.8 M3
DIRTY OIL : 0.9 M3
BILGE WATER : 0.8 M3
SEWAGE : 0.9 M3
Propulsion System
MAIN ENGINES : 2X CATERPILLAR C-18 ACERT/A
TOTAL POWER : 666 BKW (894 BHP) AT 1800 RPM
GEARBOXES : 2X REINTJES WAF 164L 4.56:1
PROPULSION : 2X PROMARIN FIXED PITCH PROPELLERS (1350 MM PROP. DIAMETER)
NOZZLES : 2X VAN DE GIESSEN WITH ST.ST. INNERRING
Fuel/Water
TRANSFER PUMP : STERLING SIHI, AKHK 5101, 20M3/HR EACH
FRESH WATER : SET SPECK PY-2071/20
SEWAGE PUMP : LIBELLULA L1-3H, 6.6M3/HR AT 15 M.W.G.
Nautical & Communication Equipment
RADAR SYSTEM : FURUNO FR-8062
COMPASS : MAGNETIC KOTTER TYPE
SEARCHLIGHT : PESCH 500 W
GPS : GARMIN MAP 521
ECHOSOUNDER : FURUNO LS-6100
VHF : SAILOR RT2048
NAVTEX : FURUNO NX-700
Deck Layout
ANCHOR : POOL HHP TYPE, 1X 105 KG AND 1X 48 KG
ANCHOR HANDLING WINCH : KRAAIJEVELD, 15 TON AT 5 M/MIN
DECK CRANE : HYDRAULIC ARE HEILA HLRM 65-5S LIFTING CAPACITY 7.1 TON AT 8.4M
A-FRAME/HYDRAULIC WINCH : 20 TON SWL; WINCH PULL FORCE 14TON
BOW ROLLER : DIAMETER 900MM-2500MM WIDTH
TOWING HOOK : SWL 15 TON
LIFE RAFT : RFD, 6 PERSONS
Auxiliary Equipment
GENERATOR SET : CATERPILLAR C4.4 NA, 40 KVA, 230/400 V, 50Hz
ALARM SYSTEM : ENGINES, BILGE ALARM 2X STERLING VWSI5013, 24
BILGE PUMP/GS PUMP : M3/HR.1X MAIN ENGINE DRIVEN, 1X ELECTRICALLY DRIVEN
Accommodation
THE VESSEL IS FITTED WITH AN AIR CONDITIONED WHEELHOUSE, DAYROOM/PANTRY FOR 4 PERSONS AND SANITARY SPACE WITH TOILET AND WASHBOWL. A WORKSHOP AND STORE IS FITTED BELOW MAIN DECKS.
The data on this specification is published in good faith and for general information purpose only.
It does not warrant its accuracy or completeness and to the full extent allowed by law excludes liability.
Charter enquiries can be directed to our Commercial Department
Phone: +61 8 9965 9700 Fax: +61 8 9965 4545 Email: commercial@bhagwanmarine.com
Specification ID: 0 Revision: 0