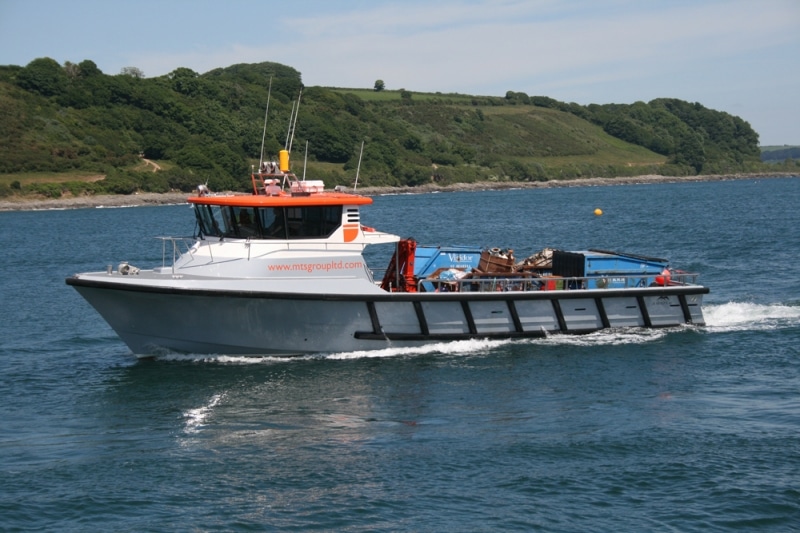 General
Type of Vessel : Fast Crew & Cargo Transfer Vessel
Builders : Markos Australia
Building Year : 1995 – Redesigned 2010 UK
Basic Functions : Crew transfer, cargo transfer, dive support, windfarm & jack up support.
Classification : MCA Cat 2 – 60 miles from safe haven
Propulsion System
Main Engines : 2x MTU 560 series
Total Power : 1500 hp
Gearboxes : 1x Twin disc
Propulsion : 2x 5 blade pitch propellers
Bow Thruster : 1x 75 hp
Tank Capacities
Fuel Oil : 6.00 m3
Fresh Water : 1.0 m3
Dimensions
Length o.a. : 20.5 m
Beam o.a. : 6 m
Draught aft : 1.5 m
Windfarm Fender
Special windfarm bow fender
Deck Layout
Anchor : 2x Kedge type
Deck Crane : Atlas 6 tm
Deck layout : Clear deck area 55m2
Features
Accomodation :
Heated living spaces for 2 persons, shower, WC, seating for 10 passengers, 10 tons cargo.
Auxiliary Equipment
Generator Sets : 1x Yanmar 220/380v
Capacity : 1x 30 kva
The data on this specification is published in good faith and for general information purpose only.
It does not warrant its accuracy or completeness and to the full extent allowed by law excludes liability.
Charter enquiries can be directed to our Commercial Department
Phone: +61 8 9965 9700 Fax: +61 8 9965 4545 Email: commercial@bhagwanmarine.com
Specification ID: 0 Revision: 0